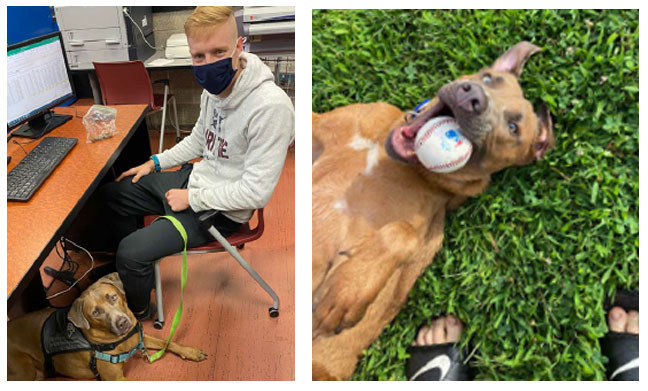 Our pup, Duke, is being raised by Michael, a Naval Officer candidate. When he was a staff instructor at the Nuclear Protype Training School, Michael was selected for the Seaman to Admiral-21 program. He moved to the Bronx in spring of 2021 to begin the training, and learned of Putnam Service Dogs. Approved as a puppy raiser, Michael took over the raising of teenage Duke. It has been a great match for both!
Duke quickly adjusted to life in the Bronx – angry New Yorkers, buses flying by, and walking underneath in the subway stations. Michael took Duke hiking on the beach, and discovered Duke had a fear of water. Michael overcame this by taking Duke canoeing. Duke sat on his lap in the canoe, looking around like a sea captain.
Soon Duke was trying to rescue a swimming Michael, and swam laps around him.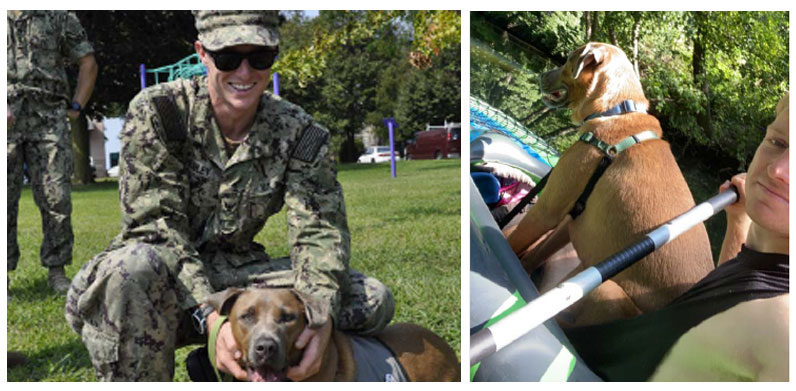 Michael took Duke home to Ohio. Duke loved the long car ride, sticking his head out the window and watching the scenery go by. Once there, Duke
proved therapeutic for the family dog, Red, who'd been abused in his past. Duke's happy presence taught
Red not to be fearful of people. Duke completely changed Red.
When Michael's Naval Officer training began this fall, Duke went with him to class. Duke quickly became the class star. The staff and students loved seeing him every day as he happily pranced around, bathing in the attention. During class, Duke settled quietly under Michael's desk, napping on his sweatshirt.
Although he'd grown up with dogs and loves them, Michael's naval deployments prevented him from owning a dog. He found Putnam Service Dogs to be a very caring organization and was delighted to help raise one of our pups. It was a perfect way for him to give back to the community, and have a great dog as a companion. As Duke's raiser, Michael works to empathize with him, and understand what he's thinking. They work as a team to achieve goals in Duke's training and development. Their work together has added to Michael's ability to better understand, and lead his sailors in the future.
"Duke trusts me, and will happily walk into any situation or room with me as his companion. When placed, he will make that person his entire world. I'll be very sad to give him up, but knowing he'll benefit and change someone's life who needs it is worth it to me."