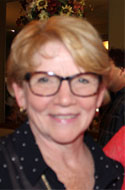 Gina Fedele
President
Gina Fedele began her involvement with Putnam Service Dogs in 2020, after learning about the organization and finding that our mission, values and vision are very closely aligned with her own. She's a 2020 graduate of Leadership Westchester, a rigorous nine-month program oriented towards nonprofit leadership. Gina is also a proud member of Impact 100 Westchester, a women's giving collective to support local non-profits, and commits her time and talents to many local non-profits. 
Currently Gina has deepened her connections and commitments to the nonprofit sector by joining the staff of Pro Bono Partnership, a nonprofit law firm offering free transactional legal services to nonprofits in New York, New Jersey and Connecticut.
Gina earned a Master's Degree in Energy Policy and Programs from the University of Pennsylvania, and had a 20-year career in New York State's electric utility industry before leaving the field to raise her twins. She, and her family, along with 3 dogs and 2 cats, reside in Pelham.
In addition to her role as Board President, Gina is spear heading a multi-year campaign to build a Training Center for Putnam Service Dogs.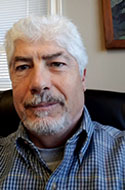 David Bruen
Vice President
David Bruen was owner and President of Bruen Deldin DiDio Associates, Inc, an insurance brokerage firm with offices in Brewster, NY, Rocky Hill CT, and Coventry, RI.. Bruen Deldin DiDio specialized in Business, Personal insurance, Bonding, and Employee Benefits. David has recently retired from 43 years in the insurance business.
His community interests are Rotary Club of Brewster and Peach Lake Environmental Coalition. He enjoys fishing, golf, hunting, skiing and racquetball as well as family and friends. His Labrador Retriever Harley is always at his side.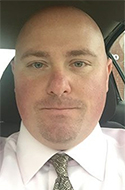 Justin Kilian
Treasurer
Justin Kilian is a seasoned banking professional with nearly fifteen years of retail banking experience. Currently, Mr. Kilian is the Vice President for mortgage lending at Guaranteed Rate. With a passion for assisting his local community, he is also an active member of both the Mahopac Chamber of Commerce and Putnam Valley Business Network, as well as the Vice President of the Master Networks Mahopac Chapter. In his downtime, he enjoys spending time with his wife, his two children, and his faithful dog Spot.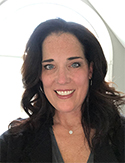 Susan Mensi
Board Member
Susan has been an attorney for the past 25 years. By way of education, she first attended Pace University, where she obtained a Bachelor of Arts and Sciences degree, and she then went on to Pace Law School, where she obtained her Juris Doctorate degree. As a practicing attorney, she has focused primarily on medical malpractice, personal injury and litigation and has worked in both a large city law firm as well as small local firms. Susan has also been an active volunteer for several different entities, including various different schools and sports organizations. She enjoys spending her free time with her husband and three children as well as their golden retriever, Charlie. Susan has been an avid dog lover her whole life, and she feels strongly that the combination of her legal experience, volunteerism and her passion for dogs will collectively help Putnam Service Dogs achieve its' goals and deliver services to its' clients.
Cindy Haas
Board Member
Cindy Haas has been a resident of Somers for 27 years, and a real estate professional for the past 18 years. She combines her knowledge of her community with her extensive business experience and saavy to good use: she's been a consistent Top Producer at the William Raveis Office in Somers since 2002. Cindy has gained sales and marketing experience as she's progressed in her career. She managed a sales staff of 30 before joining William Raveis, ran a Dancewear Company for 15 years, and now runs a very successful real estate practice. Cindy is a passionate dog lover and brings her focus, and zeal to the Board of Putnam Service Dogs.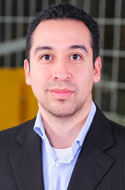 Mike Hermoza
Board Member
Mike is an accomplished and experienced Treasury professional with expertise in global capital markets, risk management, strategic initiatives, among others.  He received a BS in Accounting from Fordham University in 2006 and has been on an impressive upward trajectory in various financial management corporations.  Mike was drawn to Putnam Service Dogs during a Volunteer New York intensive training seminar for professionals who want to dedicate their time and talents to New York nonprofits.  In his current role at Tronox Holdings PLC Mike is covering clients and partnering with management across six continents to optimize working capital needs. 
Mike has made a personal commitment to run a marathon in each of the seven continents and use these marathons to raise awareness and donations for Putnam Service Dogs!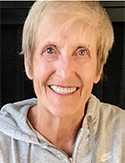 Marty McGinnity
Board Member
"Our service dogs change lives." This mission statement is what caught Marty's attention and got her interested in Putnam Service Dogs. Marty graduated from St. Mary's of Notre Dame and moved to New York City shortly after graduation to start working for IBM. A long and diverse career at IBM took her across several cross-functional assignments in areas such as finance and human resources with a major career focus on sales and marketing. She also served in an executive leadership position at FatWire, a software startup company. Her broad business background and strong leadership experience has helped her launch her own marketing consulting company Marty currently serves as a Board member for a non-profit organization dedicated to raising funds for Feeding Westchester and is an active participant in Lustgarten Pancreatic Cancer events.
She lives in Tarrytown where she spends time with family, friends, and her seven-year-old Labrador, Murphy.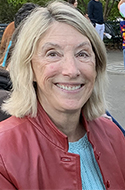 Nancy Teague
Founder/CEO
Ms. Teague holds both a B.A. in Business Administration (BBA) and a Masters in Hospital Administration (MHA) from the University of Michigan, graduating with distinction both times. She pursued the two-year MHA degree, rather than the one-year MBA as she wanted to help people. The field of Hospital Administration was too many meetings, so she spent most of her adult life instead selling complex products –  matching people with products. She found her calling when she became immersed in the world of Service Dogs ten years ago. It began with her training her mixed breed dog at ASPCA in NYC to become a Therapy Dog, several steps below a Service Dog. They visited a Brooklyn Hospital weekly for four years, bringing much cheer.  She fostered a brood, raised several puppies, and was an Early Puppy Socializer Volunteer for Guiding Eyes for the Blind for two years. She was on the NE Board of Canine Companions for Independence for three years. Because the waiting list is over two years long for Service Dogs for people with physical disabilities other than blindness, Ms. Teague founded Putnam Service Dogs. She hopes you'll join her in building a Center for Putnam Service Dogs and supporting its life-enhancing programs. For further inquires, Ms. Teague can be reached at: nteague@putnamservicedogs.org.
Your donation saves lives!