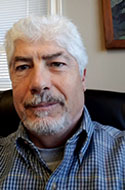 David Bruen
Vice President
David Bruen was owner and President of Bruen Deldin DiDio Associates, Inc, an insurance brokerage firm with offices in Brewster, NY, Rocky Hill CT, and Coventry, RI.. Bruen Deldin DiDio specialized in Business, Personal insurance, Bonding, and Employee Benefits. David has recently retired from 43 years in the insurance business.
His community interests are Rotary Club of Brewster and Peach Lake Environmental Coalition. He enjoys fishing, golf, hunting, skiing and racquetball as well as family and friends. His Labrador Retriever Harley is always at his side.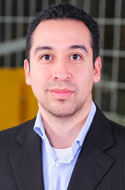 Mike Hermoza
Treasurer
Mike is an accomplished and experienced Treasury professional with expertise in global capital markets, risk management, strategic initiatives, among others. He received a BS in Accounting from Fordham University in 2006 and has been on an impressive upward trajectory in various financial management corporations. Mike was drawn to Putnam Service Dogs during a Volunteer New York intensive training seminar for professionals who want to dedicate their time and talents to New York nonprofits. In his current role at Tronox Holdings PLC Mike is covering clients and partnering with management across six continents to optimize working capital needs.
Mike has made a personal commitment to run a marathon in each of the seven continents and use these marathons to raise awareness and donations for Putnam Service Dogs!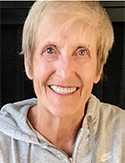 Marty McGinnity
Board Member
"Our service dogs change lives." This mission statement is what caught Marty's attention and got her interested in Putnam Service Dogs. Marty graduated from St. Mary's of Notre Dame and moved to New York City shortly after graduation to start working for IBM. A long and diverse career at IBM took her across several cross-functional assignments in areas such as finance and human resources with a major career focus on sales and marketing. She also served in an executive leadership position at FatWire, a software startup company. Her broad business background and strong leadership experience has helped her launch her own marketing consulting company Marty currently serves as a Board member for a non-profit organization dedicated to raising funds for Feeding Westchester and is an active participant in Lustgarten Pancreatic Cancer events.
She lives in Tarrytown where she spends time with family, friends, and her seven-year-old Labrador, Murphy.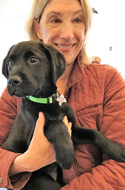 Nancy Teague
Founder/CEO
Ms. Teague holds both a B.A. in Business Administration (BBA) and a Masters in Hospital Administration (MHA) from the University of Michigan, graduating with distinction both times. She pursued a two-year MHA degree, rather than the one-year MBA as she wanted to help people. After sitting through too many meetings,  she left the field of Hospital Administration. She sold various complex products – art, pianos, NYC residential real estate –  matching people with products.
She found her life's calling 15 years ago. She trained her mixed breed dog to be a therapy dog. When they visited their local hospital, she saw how much her dog helped people. 
She then volunteered for Guiding Eyes for The Blind for 3 years. She fostered a brood dog, raised several puppies, and was an Early Puppy Socializer. She learned a lot about service dogs, and service dog schools.
She then joined the NE Board of Canine Companions for Independence for 3 years. (the largest Service Dog organization in the US). Their waiting list is over two years long. She saw the unmet need for service dogs for people with physical disabilities other than blindness.
Ms. Teague founded Putnam Service Dogs in 2016. She blended her long time support for mixed breed rescue dogs with the mission of Putnam Service Dog – changing lives through highly trained service dogs. Our trainers carefully select dogs from rescue organizations to train as our life enhancing service dogs. For further inquires, Ms. Teague can be reached at: nteague@putnamservicedogs.org
Your donation saves lives!