Jake says:  "Cary is my best friend. I can't imagine my life without him. We go almost everywhere together and he always keeps me safe. Cary is very good at his job and constantly alerts me to things I can't hear. I have more confidence when Cary is with me because I know he'll look out for me.  We make a good team.  When Cary gets scared during thunderstorms, then it's my turn to make him feel safe.  Cary works very hard and I'm really proud of him."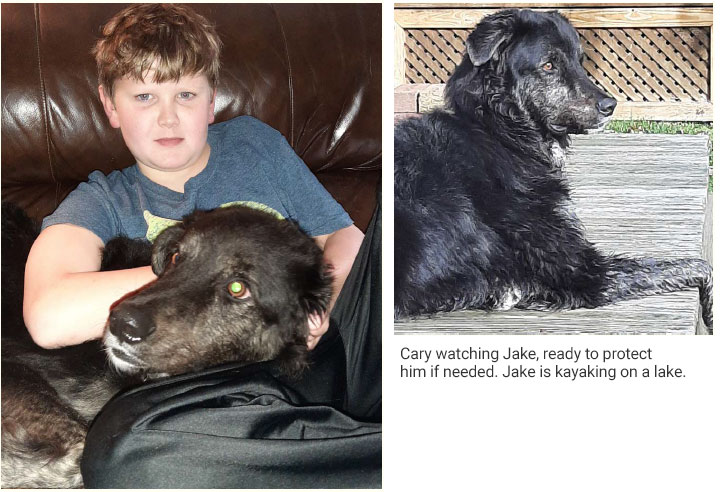 Cary is the best thing that has ever happened to Jake.  Cary went trick-or-treating with Jake at Halloween. Despite it being in a dark, unfamiliar neighborhood, Jake was completely at ease because he knew Cary was by his side.  Cary was absolutely unflappable that night despite all the crazy costumes and loud noises. Cary's quiet confidence is exactly what Jake needs to be successful. Jake's confidence continues to soar since Cary was placed with him in January 2021.
Jake and Cary are together so much that Jake's mom has (repeatedly!) called them by each other's names!  For more than 2 months Cary patiently endured almost daily soccer games and practices while Jake played this fall.  He would rarely take his eyes off the field, always keeping a watchful eye on Jake. They'd have a joyful reunion at the end of a every game and Cary became something of a team mascot.
Cary still loves his daily walks and doing "zoomies" outside with the kids where he can race and run at full speed.  If Cary has any complaints whatsoever, it would be that if he isn't quick enough. The cat steals his dog bed!