The Mission Statement of Putnam Service Dogs' is: Our service dogs change the lives of our recipients and their families, adding love, joy, independence, and ease. We honor and promote the nurturing bond between humans and dogs. Our Mission Statement is the essence of What We Passionately Believe and Uphold.
The Origins and History of the Dog-Human Bond
The nurturing bond between dogs and humans began over 12,000 years ago, per fossil evidence. The hunter-gatherer Homo Sapiens welcomed friendlier wolves into their lives to hunt with them, and a synergistic relationship was born. The wolves* evolved into dogs – developing shorter teeth since their humans had weapons to kill the prey. The humans benefitted from their dogs' better sensory perceptions, and faster speed. Dogs lost some of their wolf traits and skills to become better suited to live with their humans.
They honed their ability to read and react to humans. They gained a sense of being one of us, no longer a wild creature. Humans' relationships with their dogs moved beyond just a means of survival, from fear to trust and affection.
Charles Darwin, the evolutionist, was fascinated by dogs and surrounded himself with them. He hunted with foxhounds and beagles as a young man to mimic the hunter-gatherer partnership and surveyed breeders on the traits they were developing in their lines.
Do Dogs Bond With Humans?
No other species has managed to change the wiring in their brains to such an extent to work so well with humans. They have evolved to fit many of our needs, and have become our treasured companions and members of our families. In 2015 54% of all households in the US lived with a dog, 70-80 million dogs. Americans will spend $62.75 Billion in 2016 on their dogs. (2015-1016 APPA National Pet Owners Survey).
Custody of dogs and doggie maintenance have become issues in a growing number of divorces. It's now legal in some states for people to be buried with their dog's ashes. Most dogs owners will quickly attest that their dog is their best friend.
An Intense Bond Between Handler & Dog
The bond between a service dog and its handler is one of the closest bonds there is. They are truly interdependent on each other and have an intensity in their daily relating that isn't present in most dog/human relationships. It is the dog's intense love of his handler that assists him in the very demanding work of being a Service Dog.
"A dog is the only thing on earth that loves you more than he loves himself." Josh Billings (1818-1885), American writer and humorist.
Putnam Service Dogs is committed to honoring the very special, nurturing bond
between humans and dogs. We will promote that bond, and safeguard the dogs, from the point of accepting them from a shelter or rescue group through their lives. 
*In 2013 scientists at UCLA, led by biologist Dr. Robert Wayne, published an analysis strongly indicating that dogs are descendants of a European gray wolf, now extinct. "Complete Mitochondrial Genomes of Ancient Canids Suggest a European Origin of Domestic Dogs", Nov 15, 2013, Science Magazine.
Become a Volunteer Puppy Raiser!
Do you want to begin your journey bonding with a dog? Then become a puppy raiser for Putnam Service Dogs! This is a great way to get involved and make a difference for someone with a disability.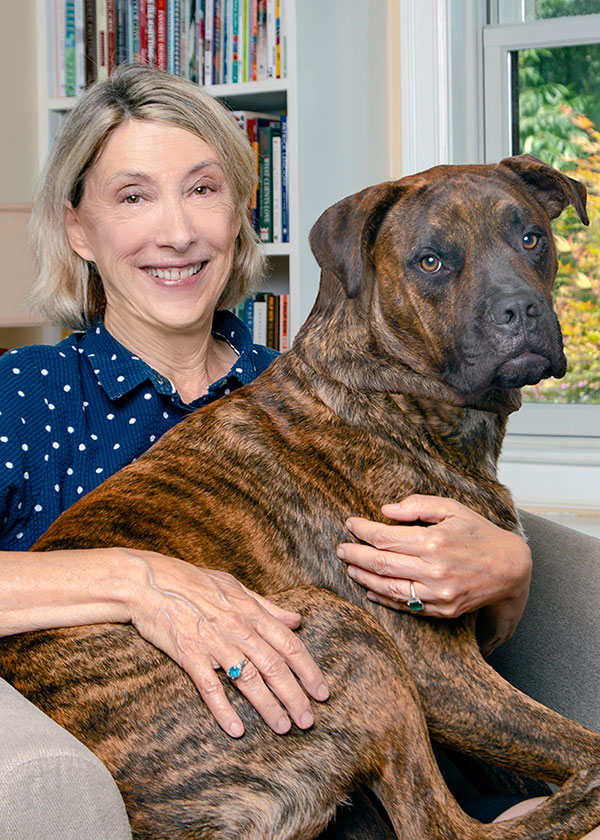 Nancy Teague, the founder of Putnam Service Dogs, is a dedicated advocate who embodies the mission of the organization every single day. Alongside the passionate individuals who have joined the cause, she works tirelessly to make a difference in the lives of both people and dogs. With an unwavering commitment to championing service dogs, Nancy understands the transformative power that occurs when a service dog is matched with its recipient, forging a remarkable team.