As a dog owner, it can be tough to see your usually calm pup get stressed out during roaring thunderstorms. You may also notice your dog showing mild signs of stress like whining, drooling, and licking their paws, and they may want to hide and seek refuge in a confined space.
These behaviors are normal since d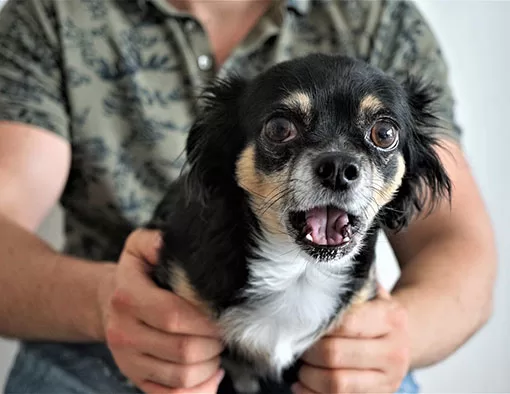 ogs are more sensitive to sounds and can detect thunder well before humans do. But when your pet trembles, barks, howls, or becomes destructive, their fears are pretty hard to ignore, and it's always the best course of action to alleviate their fears and make them more comfortable.
There are several ways that you can help your dog feel less stressed during thunderstorms. Here are seven tips to calm them down when the weather is bad:
Keep Your Dog Safe and Comfortable in Their Immediate Environment
A safe space can help a fearful dog chill out during thunderstorms. To calm your dog down, set up a den-like environment that will soothe your dog's nerves and allow them to feel like they're not as close to their stressors. An enclosed space like a dog crate is good because they'll feel safe and they'll be sure that nothing will sneak up on them.
Wrapping your dog in something comfortable may also quell their shivers. Try forming thunder shirts for them out of blankets or letting them wear dog bandanas around their necks.
Avoid Punishing or Fussing Over Your Dog
If your pet gets worked up during thunderstorms, remember not to punish your them. This will only confirm to them that there's something to be fearful about and may make their reactions worse. Also keep in mind that if you're anxious or upset about your pet's behavior, they will likely feel it too.
Although you don't want to scare your dog more, remember that fussing over them or baby-talking them won't necessarily calm them down, either. They might mistake your actions as a reward for behavior like crying, which may intensify every time there's a thunderstorm and may ultimately not be very healthy for their training. Although it can be difficult to do, it's best to be even-handed about your pet's fearful behavior and to be matter-of-fact when calming them down.
Distract Your Dog with Toys
Diverting your dog's attention can also help keep them calm during thunderstorms. Give them familiar toys and games to make the seemingly scary weather feel fun for them. You can also encourage them to play games inside the house with puzzle toys or a short-distance game of catch. Engaging your dog through these activities can keep them preoccupied until the thunderstorm finally passes.
Encourage Healthy Chewing and Licking
Chewing and licking are common self-soothing behaviors in dogs. If your dog does something similar when they're upset, give them positive outlets for their behaviors. For example, you can hide treats in chew toys and leave it to them to find the treats while gnawing on their toys.
Alternatively, you can buy a toy that encourages licking, like a lick mat that you can smear with peanut butter or soft bananas. Letting your dog work for their food will keep them busy and get their attention away from what they fear.
Block Outside Noise and Light
Your dog may have a powerful sense of hearing and be able to perceive thunder when you can't, but you can help them feel less stressed by reducing the noise and light from outside. Start by keeping windows and doors shut to muffle the sounds. Also consider letting your pet stay in a room or area of the house where the thunder will be heard the least.
It's also a good idea to draw the curtains in the room your dog will stay in before the storm begins. This will allow you to block out flashing lights, which may scare your pup even further.
Play Background Sound
Aside from reducing the sound and light from outside, you may also want to try providing background sounds to soothe your dog. Turning on the radio or television during thunderstorms can distract them from what's going on outside and make them feel a little more normal.
If you want to play some music, classical tunes can be quite calming to your dog. You don't have to turn up the volume if you do this. As long as your dog can hear something other than thunder, they'll be more inclined to focus on that rather than the thunder outside.
Train Your Dog to Settle on Command
Training your dog to stay calm can reduce their anxiety during thunderstorms. On a clear day, teach your dog to settle on command. Do your training in a location inside the house, where the noise of the storm will be less prominent.
Use training cues like a dog blanket, plush dog toy, or music every time you train your pet. Elements like a predictable location and training cues will help your dog advance during the training process. The training tools you use can also help your pet understand the action you want them to do, thus making it easy for them to follow your commands. The next time there's a thunderstorm, take your dog to the place where you trained them, along with the tools you used, and let them settle as you've trained them.
 Kids and even some adults can get scared during thunderstorms; what more your dog with their more powerful senses? Keep them calm by creating a safe and relaxing environment at home. When the next storm hits your area, you and your pup will be calmer and better prepared to face it together.