Many people live with disabilities that make it difficult or impossible for them to do daily tasks that others take for granted. Service dogs are trained to perform tasks for recipients who cannot do the tasks themselves. But dogs are not born knowing how to open drawers, retrieve dropped items, or help a person navigate in public. 
You may wonder who is responsible for training service dogs to do these and other tasks for a person with a disability. Maybe you also have questions about the training process. Let's take a look at the selection and training processes, as well as some fun and interesting service dog facts.
7 Interesting Facts About Service Dogs
According to the Americans with Disabilities Act, any size and breed of dog can be a service animal. The dogs are trained to perform tasks directly needed by a person who has a disability. However, the ADA doesn't require a dog to be professionally trained to become a service dog. 
Service Dogs are Highly Trained Professionals
Long before the service dog is assigned to a human, they undergo hundreds of hours of intensive training. They learn basic obedience and house manners, cues – both verbal and hand gestures, are introduced to many different people and situations as they're socialized. They are also trained on how to behave in public as well as to perform job-specific tasks. Service dogs don't receive random training. Each dog receives specific training to match the unique needs of their matched human.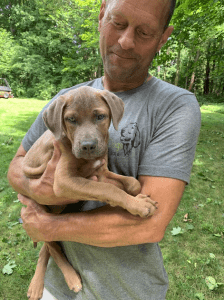 Service Dogs Can Be Any Breed or Gender
There aren't just one or two isolated breeds that can become service dogs. While there are no breed requirements or stipulations for a dog to qualify as a service dog, the dog's size needs to match its job. A service dog candidate needs the right head and heart – the right temperament, is physically healthy, and learns easily. 
Larger dogs are used as guide dogs and physical mobility dogs.Smaller dogs can be hearing alert and seizure alert dogs. At Putnam Service Dogs, we rescue mixed-breed dogs to train them to help people with physical disabilities.
Service dogs age out of their time as service dogs when they can no longer perform their needed tasks because of their age. This is generally when the dog is 8-10 years old.
Service Dogs Can Help People with Many Different Types of Disabilities
One of the most interesting facts about service dogs is that they can be trained to perform a wide range of tasks. This means that they can assist people who have different types of disabilities. Some of the most common types of service dogs include:
Visual Assistance

 Mobility Assistance

Seizure or Diabetic or Allergen Alert

Hearing Assistance
Service dogs are trained to do things like flip light switches, open doors, retrieve dropped items, and open doors. Putnam Service Dogs are trained to help people with physical and mobility limitations other than blindness. 
Dogs are the Only Animal Recognized as Service Animals
In 2011, the ADA specified that only dogs are recognized as service animals. They are trained to perform tasks for a person who has a disability, and they are allowed in public places since they accompany persons with disabilities. A service dog must be permitted in areas where members of the public go. Service animals are allowed entry into shops, stores, restaurants, and areas where dogs are not usually allowed to go. They are not a pet; they perform specific tasks and assistance for their person. They must wear an identifying Service Dog vest.
All Service Dogs Go Through a Strict Screening Process for Temperament and Health Conditions
Dogs are carefully selected for our training program. We find rescue puppies in shelters and then take them through a very careful, thorough screening process. Our goal is to ensure they have the right temperament to work closely with their human. They must also have a temperament that is conducive to learning specific skills that will be needed. Additionally, we want to make sure they are healthy enough to provide the services needed and have no health conditions that will require extensive medical treatment or care.
Types of Tasks Service Dogs Can Perform
Each service dog is trained specifically to serve their recipient. The needs can vary based on the particular disability, so a service dog's responsibilities can vary greatly. Here are a few of the interesting tasks they can do for their human.
Retrieve dropped items for their human

Fetch items for their recipient

Sense blood sugar problems and seizure activity

Open doors or drawers

Carry necessary items in a pack (keys, medications)

Wake the recipient up

Alert the handler to the presence of an allergen

Provide mobility assistance which includes navigating in public and assisting with balance issues
Service Dogs Don't Just Wear a Vest
You may see a service dog wearing a vest. However, wearing a vest will not make the animal a service dog. Their training and their ability, as a team with their recipient,  to pass the Public Access test is what grants them public access rights. A service dog's purpose is to help their person achieve a better quality of life and more independence. 
How is a Service Dog Trained?
The International Association of Assistance Dog Partners sets the guidelines for training service dogs. At Putnam Service Dogs, our training exceeds the minimum standards set by the most respected organizations. They will undergo at least 120 hours of training and meet certain guidelines to become a service dog. To become a service dog, they must show no aggressive behavior and master all the basic obedience skills. It is also essential to work with each recipient to make sure they have the necessary handling skills to deal with their service dog.
How Putnam Service Dogs Trains Our Service Dogs
At Putnam Service Dogs, we have highly qualified staff members who train our dogs, in addition to volunteers that help raise our puppies while getting guidance and support from our trainers. A puppy raiser's responsibility is to exercise and play with the pup, train the pup several times a day in basic obedience and house manners, take the pup on outings, keep them safe and healthy, and of course, give them lots of love.
After about 12 to 18 months, depending on the dog, they will transition to Formal Training done only by our trainers. For the next 4 to 6 months, the dogs will train about an hour per day to further their obedience training, house manners, socialization, and learn to do the tasks required by their future recipient.
How We Train the Recipient of One of Our Service Dogs
We don't just train our service dogs. Once one of our dogs is matched and placed with a recipient, we need to train the recipient. They need to learn how to handle their dog effectively, communicate with their dog, understand their body language, and of course, build a loving, trusting bond. Training a recipient usually takes about the same time as the dog's formal training, 4-6 months. The first 5 to 10 days of training is intense with the length depending on how quickly the recipient learns handling skills, to read their dog, and to bond with their dog.
Their training tapers off to 1 or 2 hours per week, then 1 or 2 hours per month until the team can pass the Public Access test. Whether trained professionally or at home, the amount of training a service dog goes through should never fall below the minimum level needed to pass the Public Access test. At Putnam Service Dogs, we use the test approved by the Assitance Dog International Organization.
Now is the time to open your heart. Are you interested in becoming a service dog puppy raiser? Get in touch with Putnam Service Dogs to learn more about our program today!