Hello potential Volunteer Puppy Raiser!
Your support is changing lives – 1 dog at a time …… and you could raise that dog!
What Does a Puppy Raiser Do?
We provide free service dogs for people with physical disabilities other than blindness. Our training staff will work closely with you to guide and support you. You'll meet other nice folks in your group classes. The first 6 months will be intense. You'll be teaching the pup a lot.  Young pups need frequent toilet breaks, and a LOT of supervision. We'll select and adopt the pup you'll be raising once we've processed your raiser application.
How Does It Work?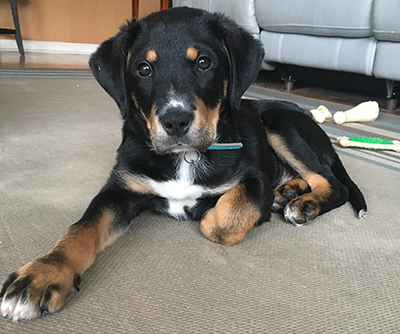 Service Dogs perform tasks (the definition of a service dog under ADA) for their disabled person to assist them in their daily living. The most frequently requested task by our applicants is to retrieve dropped items. We adopt carefully selected mixed breed pups, 10 weeks up to 2 years old, from rescue groups to train as our service dogs. Occasionally we receive a donated dog, which may be a purebred, or a hypoallergenic dog. All our pups are very people oriented, loving, intelligent, responsive to training, and nonaggressive.
You'll be living with a great dog for 12-18 months, depending on the dog.
Is it Hard to Give up the Pup?
Yes, but all your efforts are to prepare the pup for its journey. If the pup graduates, you will feel tremendous pride and joy at knowing you helped.  A tear provoking story. Our placed dogs make such a concrete difference in their person's life.
What is a Puppy Raiser's Responsibility?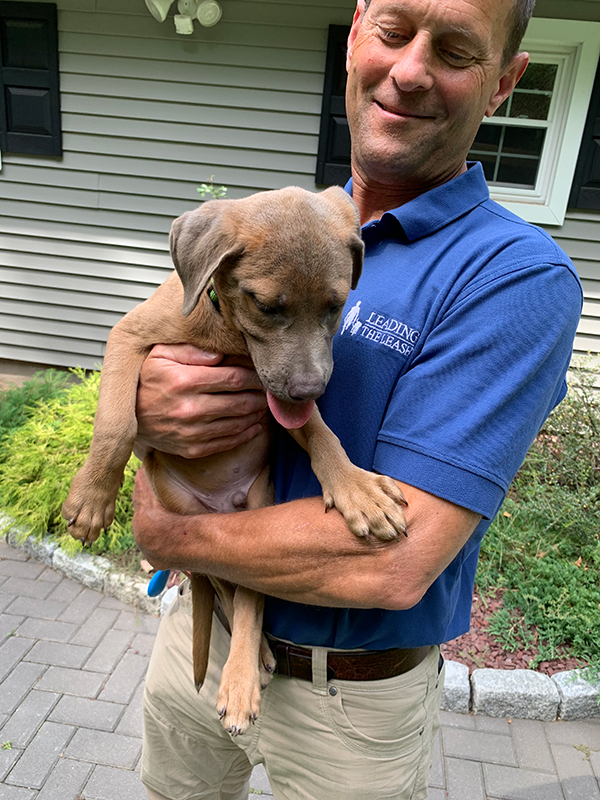 A puppy is high energy. If you're a jogger, great! If the pup runs for 10 minutes/day, they're easier to live with, and they learn better. You'll also walk your pup every day – short walks at first; a mile+ after the pup is 6 months old. Walking is intellectually stimulating for the pup – like their reading a book.  It's their favorite part of the day.
You'll train the pup in snippets several times a day, and take it on 2-3 outings each week to expand its knowledge of the world, and build its confidence. You'll bring the pup to fundraising events for a short appearance.
Read our blog post about becoming a volunteer puppy raiser. We have a network of vacation relief homes to give you relief when you need it.
How much Does it Cost?
We cover the major expenses of the pup – vet care, collars, leashes, crates, some toys. We ask that you pay for the pup's food. We endorse Nature's Select Premium Pet Food, and pass on our discount to you.
 We so appreciate our volunteer puppy raisers!  They're key to our mission! A successful service dog needs to bond closely with his person. That starts in the loving home of his raiser. Your support will change a life – 1 dog at a time, and you could raise that dog!