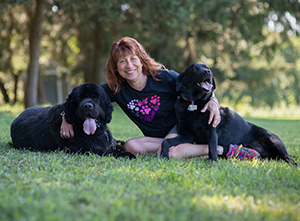 Donna Gleason
Head Trainer
Donna has over 13+ years of professional experience training dogs. She is a graduate of Cooperative Paws service dog program and has earned the recognition of SDC (Service Dog Coach). Donna has a Master's Degree in Special Education from Fairfield University and is a member of Alpha Sigma Nu – Jesuit National Honor Society. She is a Certified Dog Behavior Consultant through the International Association of Animal Behavior Consultants (https://iaabc.org),  and a Certified Professional Dog Trainer (www.ccpdt.org​)​. She's also an AKC Community Canine, an AKC Canine Good Citizen, an AKC STAR Puppy, and a therapy dog evaluator. Donna is Head Trainer/Evaluator for K9 First Responders and works alongside her dogs Socrates and Winston who provide psychological first-aid when deployed to crisis response situations. (​https://k9fr.org​).
Donna has extensive experience in sheltering and rescue work and has worked directly with many rescue organizations. Her objective is to assist shelters in developing customized programs to increase each dog's individual adoptability and reduce recidivism. Donna believes the success she has achieved in her professional life is directly correlated to her experiences while working with the shelters and rescues.
Donna is a research associate with the Canine Center for Behavior Studies working alongside esteemed veterinary behaviorist Dr. Nicholas Dodman, developing cutting edge research designed to enhance the human-canine bond. Donna practices only positive/reward based training. Her training philosophy is based on the expectation that every handler will provide training, love, and commitment. 
http://www.tlcdogtrainer.com
Putnam Service Dogs is thrilled to have Donna as our Head Trainer.
---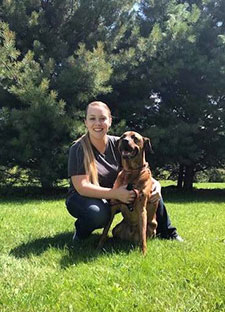 Emily Mosakowski
Trainer
Emily Mosakowski graduated from Wamogo High School after studying agriculture throughout her 4 years there. Emily then moved on to a career in the animal rescue field. She managed the kennel of one of the most successful and largest no kill shelters in the Northwest Corner of Connecticut, Little Guild of Saint Francis. When Emily was living in upstate New York, she also managed a no kill shelter kennel for a year. With 7 years of working with dogs, she has extensive knowledge in small animal medicine, canine training and behaviors.  Emily has attended many seminars – the ASPCA's Cornell Maddie's shelter medicine conference, New Hampshire's ASPCA conference and a weeklong hands on internship at Animal Farm foundation. Emily has always had a passion for animals but especially dogs. She lives in Litchfield Connecticut with her two rescue dogs, Phoenyx and Tig.