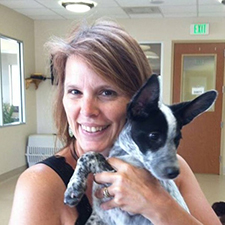 Rachael Beuchler
Head Trainer
Rachael Beuchler holds an MBA in Finance from the University of Maryland. She spent many years in corporate life as a top financial professional before turning her passion into a career in animal welfare.
Rachael earned her Certification in Professional Dog training (CPDT-KA) from the Independent Certification Council of Professional Dog Trainers. She is a member of the Association of Professional Dog Trainers (APDT), and is an evaluator for the APDT's Canine Life and Social Skills program, C.L.A.S.S., an educational program to promote training focused on the use of positive reinforcement and to strengthen relationships between humans and their canine companions. She is also an AKC Canine Good Citizen evaluator and instructor.
Rachael has been involved in the Animal welfare arena for over 20 years. She has been a Board Treasurer, a volunteer, a foster mom, and a staff member at organizations in Colorado, Vermont and Connecticut. She currently volunteers as a trainer at ROAR – Ridgefield Operation for Animal Rescue and Pets for Vets, an organization which matches shelter companion animals and Veterans.
Rachael believes that the use of rewards based training will build a relationship of trust between people and animals. She is excited to be Head Trainer for Putnam Service Dogs where she can utilize her skills to train Service Dogs to assist people with disabilities.