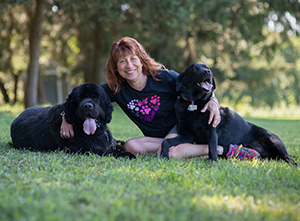 Donna Gleason
Head Trainer
Donna has a Master's Degree in Special Education from Fairfield University and is a member of Alpha Sigma Nu – Jesuit National Honor Society.  She is a Certified Dog Behavior Consultant through the International Association of Animal Behavior Consultants (
https://iaabc.org
), Certified Professional Dog Trainer (
www.ccpdt.org
​)​, Canine Good Citizen and STAR Puppy Evaluator, and a therapy dog evaluator for Pet Partners and Paws for Friendship.
Donna is Head Trainer/Evaluator for K9 First Responders and works alongside her dog Socrates and Winston providing psychological first-aid when deployed to crisis response situations (​
https://k9fr.org
​).
Donna has extensive experience in sheltering and rescue work and has worked with many rescue organizations assisting them in developing programs and tools to identify what is needed to increase each dog's individual adoptability and reduce recidivism.
Donna also is a research associate with the Canine Center for Behavior Studies working alongside esteemed veterinary behaviorist Dr. Nicholas Dodman, developing cutting edge research designed to enhance the human-canine bond. Donna practices only positive/reward based training. Her training philosophy is based on the expectation that every handler will provide training, love, and commitment. 
http://www.tlcdogtrainer.com
Putnam Service Dogs is thrilled to have Donna as our Head Trainer.